Abbeville County Library System website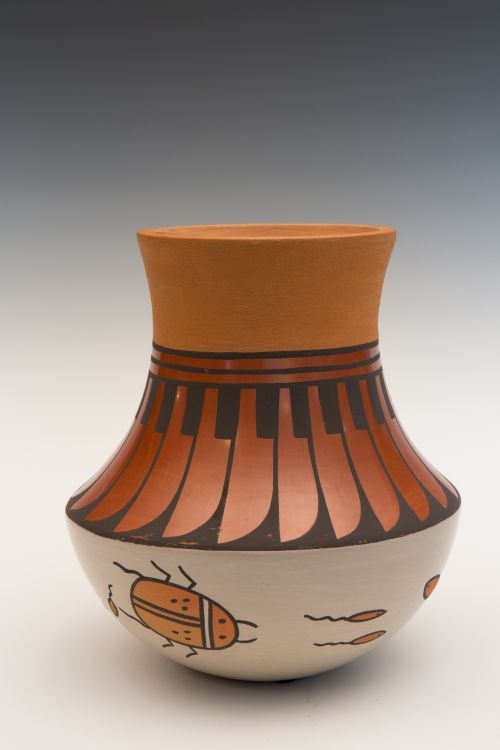 Born on March 14, 1919 in Abbeville, South Carolina, the youngest of six children of David and Rachel Poliakoff, Dr. Samuel R. Poliakoff was a medical doctor and teacher of high reputation as well as a collector and a patron of the arts. He graduated from the University of South Carolina and received his medical degree from the Medical College of South Carolina where he was first in his class. Following service in the Korean War as a captain in the U.S. Army Medical Corps, he moved to Atlanta where he became Chairman of the Department of Obstetrics and Gynecology at Piedmont Hospital, and clinical professor in that field at Emory University Medical School. Dr. Poliakoff passed away on July 2, 1989. He loved his extended family and his hometown, and bequeathed his collection as a gift on behalf of the Poliakoff Family of Abbeville.
The Native American and Western art collection of Dr. Samuel R. Poliakoff was assembled in the 1980s during his extensive travel throughout the American Southwest. He desired his significant collection of Southwestern American art to belong to the city and county of his birth, bequeathing his collection to the Abbeville County Library along with a financial bequest. Authentic and built with an extensive knowledge of the Southwest peoples, each piece in the collection serves as window into Native American art, increases our knowledge and inspires other artists.
Dr. Poliakoff enjoyed his travels in Europe and the Southwest and brought home many fine pieces to enrich his life and remind him of the Southwest. Through collecting Native-made art, Dr. Poliakoff found a wholly unique American art form, one rich in history and traditions as well as beauty. American Indian-made art has traveled around the world for centuries. That such an extensive collection would find a permanent home as a public collection in Abbeville may at first be surprising, but what a delightful and thoughtful bequest by a native son of South Carolina.
Dr. Poliakoff traveled at an opportune time because there was then a virtual explosion of creativity by Pueblo people in pottery production and Navajo people in textiles. Collecting bronze sculptures connected him with one of the great American Western art traditions as well. As authentic works each piece carries with it a tradition of craftsmanship and connection to materials and subject matter. With a clear eye for detail and subject matter in a relatively short amount of time Dr. Poliakoff was able to assemble a lifetime of experience and art. He especially admired the landscape, people and cultures of New Mexico and Arizona. On each of his yearly and often bi-yearly trips to the Southwest he gathered the various objects in this collections. Upon returning home he corresponded with galleries to collect additional pieces for his growing collection.
Dr. Poliakoff understood the West, as we all do, on his own terms. He was not a voracious collector but judicious in selecting fine works and not succumbing to tourist trinkets and bobbles. In addition, he acted deliberately in his acquisitions by strategically visiting the same galleries and steadily gaining an appreciation of the complexities of each art form through study. He was interested in families and the peoples of the Southwest too. Purchasing several pieces of pottery from a single family and lineage was an excellent way for Dr. Poliakoff to demonstrate his understanding of Native art traditions and the matriarchies of Pueblo pottery making.
| | |
| --- | --- |
| | Preparation of this website is funded in part by The Humanities Council SC, a state program of the National Endowment for the Humanities. |
| | Preparation of this website is funded in part by The Myer and Rosa Poliakoff Memorial Family Fund of Abbeville, SC. |
| | Technical assistance at the Collection location was provided by the South Carolina Arts Commission. |